Resist, Reroute, Rethink: The 3-step Rethink35 vision for I-35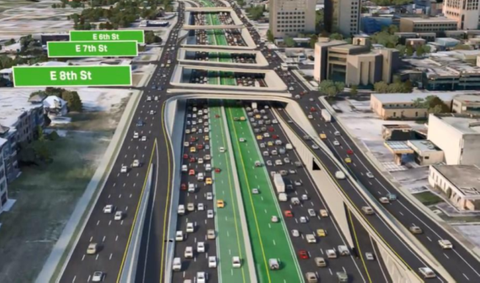 1. RESIST the I-35 expansion plan
Expanding I-35 will worsen congestion, just like Houston's Katy Freeway expansion did.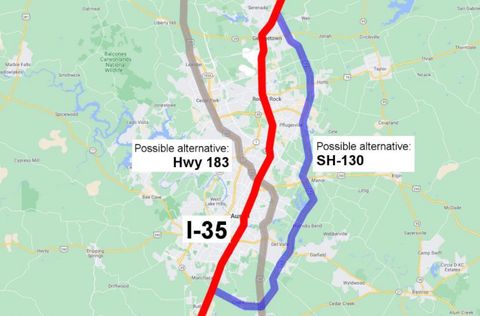 2. REROUTE non-local traffic around Austin instead of through it
We do not need an interstate highway going through our city's heart. Non-local traffic should be incentivized to instead use existing highways such as SH-130 - like I-35 does in at least 14 other Texas cities.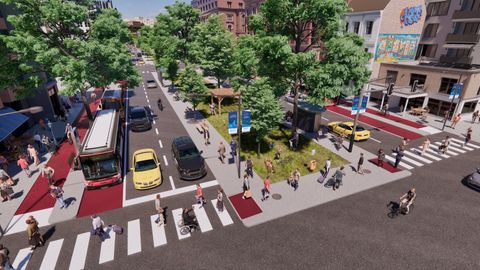 3. RETHINK I-35 through Austin as a boulevard
Removing non-local traffic will free up space for a vibrant urban boulevard through Austin with affordable housing, local businesses, dedicated bus lanes, wide sidewalks, and protected bicycle lanes.
An introduction to Rethink35
Rethink35 Co-Founder Adam Greenfield explains more about the grassroots Rethink35 plan, why the plan is right for Austin and central Texas, and why the time to do this is now.
The Rethink35 plan: the right choice for Austin
Click on a section to explore the benefits of a boulevard.
+ Austin will become more beautiful and pleasant
Imagine life with a boulevard. Happy families strolling past sidewalk cafes, neighbors catching up on the street, and local Austin businesses making us proud. This would be a stunning addition to downtown.
The community should help design the boulevard. A boulevard has the potential to be one of Texas's most iconic places. The community should lead the task of setting the character of new development along the boulevard. The result will be a beautiful place that feels uniquely Austin.
+ Gentrification and displacement will be addressed
Many people see I-35 as a wall protecting eastern neighborhoods from gentrification. However, it's unacceptable for nearby communities – especially children, the elderly, the poor, and people of color – to pay the price with respiratory illnesses, constant noise, and traffic crashes.
With the following measures, a boulevard will bring significant benefits into surrounding neighborhoods while preventing displacement. Let's get this right.
1. Create affordable housing. A boulevard will open up land that I-35 previously consumed. A high percentage of new development along the boulevard should go to affordable housing and previously displaced households should have first right of refusal.
2. Divert new tax revenues to anti-displacement programs. New development will create significant new tax revenues. The City of Austin should allocate a portion of such income toward anti-displacement programs in neighboring communities.
3. Get input from local communities before any changes. Nearby communities should have the final say to ensure that a boulevard increases equity and prevents displacement.
+ There will be enormous health and environmental benefits
1. Cleaner air. Fewer cars means cleaner air and healthier lungs, especially for nearby communities.
2. Safer streets. Tree-lined sidewalks, protected bike lanes, and public transportation will offer safe ways to get around that weren't possible before. This will save lives.
3. More active lifestyles. A boulevard will make walking and bicycling easier and more enjoyable than ever.
4. Positive climate change impacts. Transportation accounts for 36% of Austin's carbon emissions. A boulevard will greatly increase the use of sustainable transportation and slash carbon emissions.
+ Getting around Austin will be quicker, safer, and more pleasant
1. More transportation choice. 55% of Austinites wouldn't drive if they had safe alternatives. A boulevard will give people the choice to walk, bicycle, or use public transportation.
2. Reaching destinations more quickly. People take up less space when walking, bicycling, and taking public transportation. A boulevard with wider sidewalks, bike lanes, bus lanes, and train lines will move more people - and more quickly - to their destinations.