TxDOT's Proposed I-35 Expansion Plan
Despite I-35's historic role in dividing Austin and deepening the city's racial and socioeconomic divide, the Texas Department of Transportation (TxDOT) wants to spend $5 BILLION expanding I-35 through Austin to 20 lanes.
The Expansion Plans
TxDOT has broken down their expansion plans into three separate "projects": the Capital Express North, Central and South projects.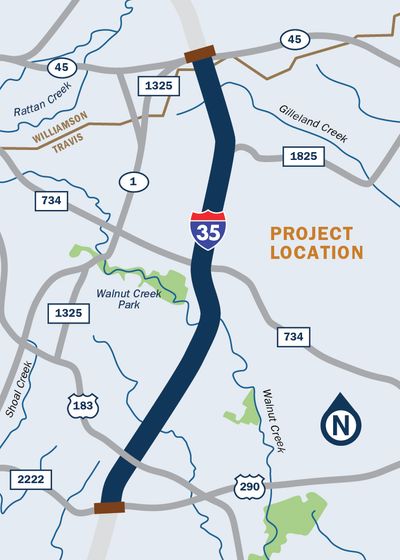 SH-45 to US 290N
11.5 miles
Cost: $606 million
Construction start: 2023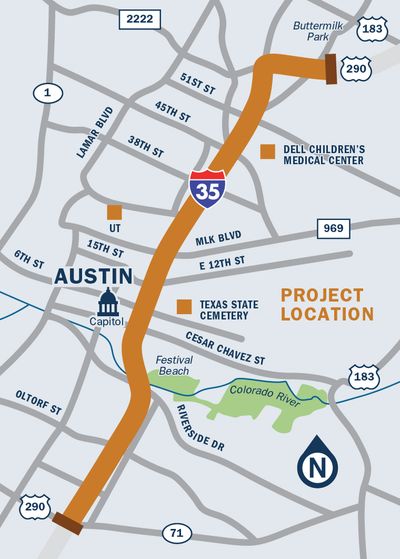 US 290N to Ben White Blvd.
8 miles
Cost: $4.9 billion
Construction start: Early 2024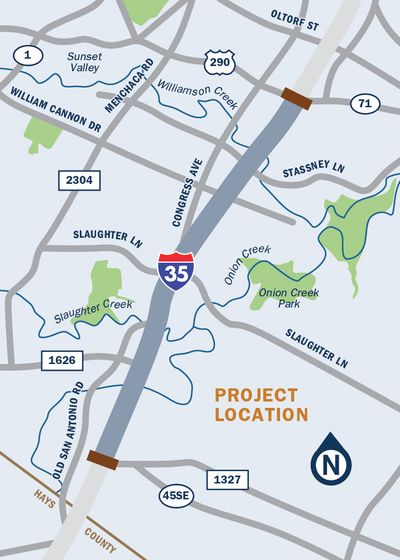 Ben White Blvd. to SH-45 SE
8.1 miles
Cost: $548 million
Construction start: Groundbreaking November 2022; construction to begin in 2023
Design Plans
A sample of some of the design plans and renderings of TxDOT's proposed plan to expand I-35 through the heart of Austin.
Click on an image to view its full size.
Expanding I-35 will have disastrous consequences
Click on a section to find out more.
+ Congestion will get worse
TxDOT has expanded highways for years, even though they know it doesn't work. Widening highways worsens congestion by encouraging more driving, a phenomenon known as "induced demand". When Houston's Katy Freeway (pictured) was widened to 23 lanes, evening commutes got 19 minutes longer.
Austinites already spend over 100 hours a year stuck in traffic. With an expanded I-35, they'll spend even more time behind the wheel.
+ Deaths and serious injuries will rise
It's impossible to describe the pain of suddenly, tragically losing a loved one. And yet, every year 25 percent of all traffic-related fatalities in Austin happen on I-35. Widening I-35 will increase vehicle speeds outside of rush hour, meaning more people will die and suffer life-changing injuries.
Increasing the number of travel lanes on I-35 will directly interfere with Austin's Vision Zero initiative to reduce traffic fatalities.
+ Pollution and carbon emissions will increase
The American Lung Association says about the Austin area "the air you breathe may put your health at risk." And climate change presents a grave threat to humanity. Widening I-35 would make these crises much worse.
Expanding I-35 will significantly impede the City of Austin from reaching its goal of net-zero fossil fuel emissions by 2040.
+ $5bn of public money will be wasted
Widening I-35 is projected to cost over $5 billion – a staggering figure that's almost certain to rise if the project gets underway. Other increased costs – including higher long term maintenance, dealing with a growing number of crashes, and of course future highway expansions – will surely follow.
Texas will have to balance its books sooner or later, meaning higher taxes for us all.